Fitness
If you've known me for a little while, you know that, before I was Keeping Carrie Fit, I ran a food blog called "A Guiltless Glutton." I posted one of my go-to tailgate/party foods on that blog and now I want to share it with you: S'mores Bites!
The Superbowl is tomorrow and, if you're anything like me, it's a huge food day. Someone always throws a party and everyone is in charge of bringing something. 9/10 times, I bring theses. Here's why:
They may not be healthy, but they're a hell of a lot better for you than other things that can be made. These are bite sized and portioning isn't hard at all.
They are so easy to make and they take no time at all.
People love them and there are never leftovers to haunt you in your kitchen.
If you signed up to bring dessert, you'll want to make these.
Servings: 12 (2 bites per serving)
Amount per serving: 159 calories—20g carbs—9g fat—1g protein—10g sugar
Ingredients:
7 graham crackers- crushed finely ( I used a food processor)
6 tablespoons butter—melted
¼ cup powdered sugar
12 large marshmallows cut in half (hamburger style, I guess would be the way to describe it)
6 tablespoon semi sweet chocolate chips divided
Directions:
Preheat your oven to 350 degrees
Grind your graham crackers and melt your butter
In a bowl, combine crushed graham crackers, butter, and powdered sugar until it form a dense crumble mixture
Separate the mixture in an ungreased mini muffin pan and mold the mixture into a crust once in the pan.**I use a teaspoon measurer because it helps make a pretty dent and it takes less time. Don't be scare to add more to one if you think it's too thin!
Bake for 3-4 minutes or until the crust looks bubbly (it won't be hard yet).
Take 4 tablespoons of your chocolate chips and put them inside the crusts (2-3 chips per bite). Then top each bite with a halved marshmallow like this:
Put back in the oven and back for another 3 minutes or so. Until the marshmallow looks really puffy!!
Take out of the oven and let cool for about 5 minutes. Then transfer the bites from the pan to a plate.
In a microwave safe bowl, microwave the remainder (or more, if you'd like) of the chocolate chips, stirring every 30 seconds until melted.
Drizzle the chocolate over the bites until they're covered as you desire and tad-a!
Enjoy!
See? Easy and delicious. Pictures of the process can be found here.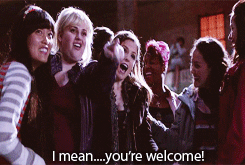 ---