---
Fitness
"Workin back… on a Tuesday."
No one? Ok, nevermind.
I woke up bright and early on Tuesday morning and drove to the gym. It was SO cold. My gym is so close that my car doesn't even warm up before I get there. First World Problems. I spent my time working back and I did some time on the bike. I tried [again] to watch The Office and I couldn't do it. I have tried to watch it so many times but it is just never funny. I want to think it's funny so badly, but I don't.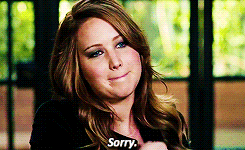 Anyways, after the gym, I went home and got ready for work. I start work at 8:00 and leave my house around 7:40 which means I have to be done getting ready by 7:30. I usually get home from the gym at 6:50, so I have about 40 minutes to shower and get presentable for work. It sounds tough, but I have it down to a science. I will share all my secrets, I promise! They just get their own post.
My favorite superset of the day today was a lat pull down super set. Technically this also worked biceps, but it was killer and I felt super pumped after I finished it!
I did this 3 times:
Exercise 1: Lat Pull Down- Regular wide grip, 10 reps
Exercise 2: Lat Pull Down- Underhand wide grip, 10 reps.
Rest
What's your favorite back exercise?